7
6:53
PM +00:00
The month Senegal were better than France -- Remembering Metsu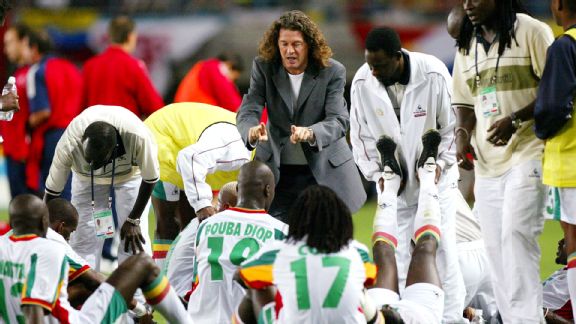 Martin Rose/Bongarts/Getty ImagesBruno Metsu and Senegal gained worldwide attention due to Les Lions' performances in the 2002 World Cup.
As World Cups go, the 2002 edition was not a classic.
A combination of stifling heat and a draining European club season combined to leave the best players woefully out of form, with joint favourites France and Argentina both departing at the group stage.
There's nothing wrong with successful underdogs, of course -- but there was a feeling that the quality throughout the competition was particularly low. Turkey and South Korea both reached the semifinals, a genuinely remarkable achievement for both -- but neither side will be remembered particularly fondly by neutrals.
Instead, the side who emerged from the tournament with their reputation most enhanced was Bruno Metsu's Senegal. In fact, their victory over France in the tournament's opening game was the most memorable contest of the entire tournament, which both underlines the disappointment of the latter stages and what an enormous shock it was for Senegal to defeat the defending champions.
France, of course, had won the World Cup on home soil in 1998, and proved it wasn't a fluke by winning the European championship two years later. Metsu, a Frenchman, considered them almost invincible.
"They have the best team, made up of the best players," he told World Soccer magazine before the start of the competition. "They are really exceptional, and don't seem to have any weaknesses. At the top, most teams have one, two or three superb players, but France has a whole team full of superb players. I honestly do not see who could beat them."
Many were speaking about Senegal as something like France's B team. Patrick Vieira, of course, was a Senegalese-born midfielder who opted to play for a significantly stronger France side -- and although not all of Senegal's squad were eligible to represent France, 21 of the 23-man squad played their football in Ligue 1, with the two reserve goalkeepers the only exceptions.
Metsu, despite his belief in France's strength, was insistent about his side's quality. "People are saying we are like a French reserve team. Listen, we have quality players, players who are good enough to get into the full French squad." It seemed a particularly optimistic observation.
However, Senegal were a genuinely impressive outfit. Metsu took charge when Senegal were winless in their qualification group, but they went on a tremendous run of form to qualify ahead of Egypt, Algeria and Morocco, considerably more experienced sides. They also reached the 2002 Africa Cup of Nations final, where they were defeated by Cameroon on penalties. Still, some bookmakers had France as 4-1 favourites for the World Cup, and Senegal 300-1 outsiders.
Metsu had Senegal organised, but he also had them motivated and confident. "Above all, I try to make the players feel as confident as possible; I talk very little to them about their opponents, a little bit at the beginning of the week of the match, then nothing other than to point out their weaknesses," he said.
The use of video footage was particularly prominent in his preparation for the game against France. "There are coaches who emphasize the opponents to such an extent that the players come onto the pitch feeling frightened. I use videos a lot; before the opening match against France, I showed the players all Le Bleus' weakness. I never spoke of the qualities possessed by Thierry Henry, David Trezeguet or Emmanuel Petit ... the players knew them already."
Sure enough, there was a fearlessness about Senegal -- they were tactically disciplined but clearly unafraid of France. Playing in a defensive-minded, counterattacking 4-1-4-1 formation, Senegal were up for the challenge.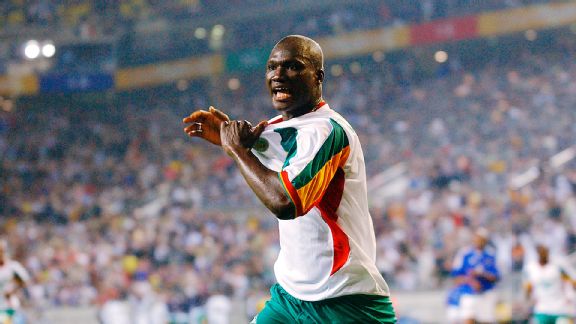 Shaun Botterill/Getty ImagesPapa Bouba Diop's game-winning goal against France was arguably the biggest surprise of the 2002 World Cup.
The only goal was extremely scrappy -- Papa Bouba Diop firing in from on his backside, after a mix-up in the French defence. "It wasn't a pretty goal," admitted Metsu. Still, it was a
perfect demonstration
of three things Senegal did excellently.
First, they won the ball quickly in midfield by pressing France. Slightly lost without either Zinedine Zidane or Robert Pires through injury, France were ponderous in possession, and were repeatedly forced into quick turnovers because of the vigorous closing down from Diop, Aliou Cisse and Salif Diao.
Second, they transferred the ball forward quickly to El-Hadji Diouf in the channels. Strange as it might seem today, Diouf was genuinely magnificent at this point -- the reigning African Footballer of the Year, he'd already been snapped up by Liverpool for 10 million pounds. He spent the match roaming the channels, pulling the Chelsea pensioners of Marcel Desailly and Frank Leboeuf out of position, before attacking in behind them. Desailly, Lebouef, Vieira and Petit were all forced into fouls, while Diouf was flagged offside an incredible 12 times -- illustrating his strategy, even if it was a damning indictment of his inability to time runs. Nevertheless, for long periods, it was Diouf against France.
Third, they got midfield runners into the box. Diouf was brilliant with his movement out wide, but not consistently a goal threat, and Diop provided the finish -- the first of his three goals in the competition.
The players were fantastic, but Metsu -- with his relaxed demeanour and his confident but measured postmatch comments -- attracted most attention. Frankly, we were still trying to get our head around the two Camaras, the two Diops and the three N'Diayes plus Daf, Diouf, Diao and Diallo. With his distinctive Carles Puyol-esque hair on the sidelines, Metsu was the symbol of Senegal.
"It is like a dream -- not a miracle, though," he said.
--
Next up, Senegal faced Denmark, who had won their opening match against Uruguay. This contest was played in midafternoon in Daegu, at 32 degrees Celsius -- such ridiculous conditions for a World Cup match that the Danes had unsuccessfully appealed for the kickoff time to be moved, fearing Senegal would acclimatise better.
However, Denmark were the better side throughout the first half, going ahead with a Jon Dahl Tomasson penalty. Senegal's approach was exactly the same as against France, with Diouf taking just two minutes to be flagged offside, but they needed to be more proactive.
Therefore, at halftime Metsu made a bold double substitution -- throwing on forwards Souleymane Camara and Henri Camara for winger Moussa N''Diaye and central midfielder Papa Sarr. Senegal switched from 4-1-4-1 to more of a 4-2-1-3, and dominated the second half.
Their equaliser, scored by Salif Diao, was arguably the
goal of the tournament
. A 13-second counterattack took Senegal from a tackle in their right-back zone to the opposition penalty area -- courtesy of two first-time passes and a fine assist from Khalilou Fadiga. This time the goal was beautiful, and again it summed up Senegal -- direct, powerful, energetic and wonderfully cohesive.
"In the second half, with three strikers, Senegal were very dangerous," admitted Danish coach Morten Olsen.
Confidence was rising. Diao, later sent off, underlined the belief throughout the Senegal squad. "We think all the time about the Cameroon run in 1990 [to the quarterfinals], and anything is possible now," he said. "The problem in Africa has been that we have not had the discipline of European players. Now the Senegalese and many other Africans are in Europe, and they have that mentality to play for a win, that only victory counts."
--
Senegal's final group game was against Uruguay; a draw would see them progress, a defeat would probably send them out. During the first half, they produced probably their best spell of football under Metsu, leading a decent Uruguayan side 3-0 at halftime thanks to a penalty from Fadiga, and two from Diop, bursting forward from midfield yet again.
At this point, Senegal were cruising through. But then, astonishingly, Metsu's side managed to let a three-goal lead slip. A double halftime substitution from his opposite number, Victor Pua, was crucial -- substitutes Richard Morales and Diego Forlan both scored, before Alvaro Recoba converted a penalty with two minutes remaining. Suddenly, one more concession and Senegal were out.
Amazingly, Morales contrived to miss a simple late header, and Senegal progressed. A British journalist described it as "one of the most dramatic games in World Cup history." Sadly, most of the world didn't see this game -- they were instead glued to France's match against Denmark, wondering whether the reigning holders and pretournament favourites would crash out at the opening stage. They did, failing to score a goal in their three matches.
"It is a historic day for Senegal -- it was engrossing, moving, difficult and it was a fantastic spectacle," said Metsu. "I'm really pleased to have made it to the last 16, and now we want to create a wonderful story for African football."
--
The second-round match, against Sweden, was a slow-burning game lit up with a couple of moments of brilliance from Henri Camara, who scored both goals -- including a fine golden goal winner. In fact, this game probably saw the best "golden goal" period in its brief usage in World Cup football -- it was frantic, end-to-end stuff.
Again Senegal rode their luck -- a superb spin-and-shot from Anders Svensson was inches away from sealing Sweden's progression, but Senegal fans would point out that Diop was denied his fourth goal of the tournament because of a wrong offside flag earlier in the game.
Now Senegal really believed in their chances. Diouf, in particular, had an interesting message. "Today we are representing Senegal, Africa, but also France," he said. For Metsu, who had rarely distinguished himself in his home country but now found himself as France's only representative in the competition, that was particularly true.
--
Then came the quarterfinal against Turkey. This was as far as an African side had ever gone in the World Cup, and Senegal were being spoken of as a genuine World Cup winner, given the exits of many major contenders.
Unfortunately, their performance at this stage was extremely poor. There was one near-miss, after 17 minutes when Camara somehow managed to block a goal-bound shot from an offside position, but while Turkey took until extra time to score, with Ilhan Mansiz's fine strike, they fully deserved the victory.
The strange feature of the game was Metsu's insistence upon keeping his starting XI on the pitch for the duration, even into extra time.
In a tournament played at extraordinarily high temperatures, with games coming thick and fast, and considering his excellent use of the bench previously, it was a peculiar decision, and remains something of a mystery. There was a surprising level of criticism for the performance in the Senegalese press, but one player pointedly hit back. "In ten years' time, they will look back on this as the golden age of Senegalese football," he said.
Later, Metsu would hint that his squad became overconfident, believing in their own hype too much. "Ahead of our quarter-final against Turkey, the press started to talk about us reaching the semis, which perhaps indirectly affected our determination," he told FIFA.com a decade later. That element of complacency was certainly glimpsed against Uruguay in the group stage.
Senegal were out, but their achievement in reaching the quarterfinal was rightly celebrated. They'd equalled the best ever achievement by an African side, and had recorded arguably the greatest one-off shock in World Cup history with the win over France.
"Yes, we lost to Turkey, but if we made any mistakes they were down to the errors of youth and over-enthusiasm," said Metsu after the defeat. "I take my hat off to the players, not just as players but as men. They are marvellous men and it is no wonder everyone has fallen in love with them."
--
The tournament seemed to signal the emergence of Senegal as a genuine international force, and introduced a raft of talented footballers set to have a major impact at club level. Yet neither has occurred -- Senegal haven't qualified for a World Cup since, and while no fewer than 11 footballers from the 2002 squad ended up joining Premier League clubs, few were genuinely successful. It demonstrates what a magnificent job Metsu performed with, in hindsight, a relatively limited group.
Perhaps the key to Metsu's success was how totally he embraced his new country -- he later married a Senegalese woman and converted to Islam, changing his name to Abdullah Metsu.
"I've seen a number of European coaches and even Frenchmen fail in Qatar, the UAE or Africa because they arrive very sure of themselves and want to apply principles imported from Europe," he once said. "It doesn't work. We should not forget that we are brought in to serve the players, to take their environment and habits into account in order to increase efficiency on the pitch."
He spent the remainder of his career in the Middle East, winning the AFC Champions League in 2003, and the Gulf Cup of Nations with the UAE in 2007. Nevertheless, he was forever linked to Senegal, and was linked with a return to their managerial role in 2012.
He was diagnosed with cancer last year. "I have learned a lot about myself and family values," he told L'Equipe in July. "Today, I can watch my children grow up and I have had nine months of happiness at their side and it's so much better than football." He also spoke of taking great inspiration from the story of Eric Abidal.
He died earlier this week, at just 59. Perhaps the most telling tribute came from one of the 2002 heroes, Souleymane Camara. "More than a coach, he was a big brother to us," he said. "What I liked about him above all was that when we needed to work, we worked, but when we needed to have fun, we had fun too." At the 2002 World Cup, Metsu's Senegal provided the fun.